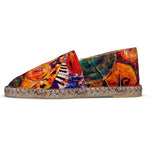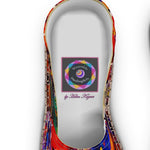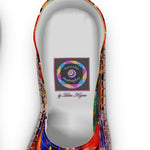 Summer Shoes. "All That Jazz". Series "Jazz & The City"
Regular Price

$115.50

Sale Price

$115.50

Regular Price

Unit Price

per
WOW! Just imagine yourself wearing these colorful jazzy Designer Summer Shoes! Everyone will be asking - where did you get them? :) I hope you will enjoy my unique colorful garments, accessories, pets wear, homewear - everything created with high-frequency healing energy embedded in them.
Care instructions
Surface wipe only. Clean gently by hand with mild soapy damp cloth.
Measure Yourself To Find The Right Size
|   | US 2 | US 3 | US 4 | US 5 | US 6 | US 7 | US 8 | US 9 | US 10 | US 11 | US 12 | US 13 | US 14 |
| --- | --- | --- | --- | --- | --- | --- | --- | --- | --- | --- | --- | --- | --- |
| Max Foot Length | US 2 | US 3 | US 4 | US 5 | US 6 | US 7 | US 8 | US 9 | US 10 | US 11 | US 12 | US 13 | US 14 |
Conversion chart
 
US 2
US 3
US 4
US 5
US 6
US 7
US 8
US 9
US 10
US 11
US 12
US 13
US 14
USA Men Shoe

US 2

3 - 3

US 3

3.5 - 3.5

US 4

4 - 4

US 5

4.5 - 4.5

US 6

5 - 5

US 7

5.5 - 6

US 8

6.5 - 7

US 9

7.5 - 8

US 10

8.5 - 9

US 11

9.5 - 10

US 12

10.5 - 11

US 13

11.5 - 12

US 14

12.5 - 12.5

USA Women Shoe

US 2

5 - 5

US 3

5.5 - 5.5

US 4

6 - 6

US 5

6.5 - 6.5

US 6

7 - 7

US 7

7.5 - 8

US 8

8.5 - 9

US 9

9.5 - 10

US 10

10.5 - 11

US 11

11.5 - 12

US 12

12.5 - 13

US 13

13.5 - 14

US 14

14.5 - 14.5

Max Foot Length cm / Inches

US 2

21.5 - 8.4

US 3

22 - 8.66

US 4

22.5 - 8.86

US 5

23 - 9

US 6

24 - 9.4

US 7

24.5 - 9.6

US 8

25.4 - 10

US 9

26 - 10.2

US 10

26.8 - 10.5

US 11

27.5 - 10.8

US 12

28 - 11

US 13

28.5 - 11.2

US 14

29.4 - 11.5
Variant:

Men 4.5 (Women 6.5)

SKU:

1622578

In Stock:

0

Weight:

0.0 lb

Product Type: Espadrilles
Brand: Contrado