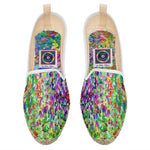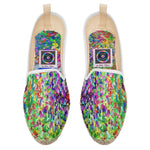 Loafer Espadrilles (Summer Shoes). Artwork "Lilacs For My Mom".
Regular Price

$129.00

Sale Price

$129.00

Regular Price

Unit Price

per
Don't you want colorful and vibrant Summer Shoes (Espadrilles)? This ones are made from my original artwork "Lilacs For My Mom". I hope you will enjoy my unique colorful garments with high-frequency healing energy embedded in them. I am Helen Kagan PhD, a healer & artist, a creator of my unique concept HealingArts™ that brings together Fine Art & Art of Healing and guarantees that every person will enhance your well-being by wearing my beautiful vibrant & colorful unique HealingArts designer clothes saturated with healing energies.
Care instructions
Surface wipe only. Clean gently by hand with mild soapy damp cloth.
Conversion chart
 
US 4
US 5
US 6
US 7
US 8
US 9
US 10
US 11
US 12
US 13
US 14
USA Men Shoe

US 4

4 - 4

US 5

4.5 - 4.5

US 6

5 - 5

US 7

5.5 - 6

US 8

6.5 - 7

US 9

7.5 - 8

US 10

8.5 - 9

US 11

9.5 - 10

US 12

10.5 - 11

US 13

11.5 - 12

US 14

12.5 - 12.5

USA Women Shoe

US 4

6 - 6

US 5

6.5 - 6.5

US 6

7 - 7

US 7

7.5 - 8

US 8

8.5 - 9

US 9

9.5 - 10

US 10

10.5 - 11

US 11

11.5 - 12

US 12

12.5 - 13

US 13

13.5 - 14

US 14

14.5 - 14.5

Max Foot Length cm / Inches

US 4

22.5 - 8.86

US 5

23 - 9

US 6

24 - 9.4

US 7

24.5 - 9.6

US 8

25.4 - 10

US 9

26 - 10.2

US 10

26.8 - 10.5

US 11

27.5 - 10.8

US 12

28 - 11

US 13

28.5 - 11.2

US 14

29.4 - 11.5
Variant:

USA Men's 4.5 / Porcine Leather insole

SKU:

1328851

In Stock:

0

Weight:

0.0 lb

Product Type: Loafer Espadrilles
Brand: Contrado